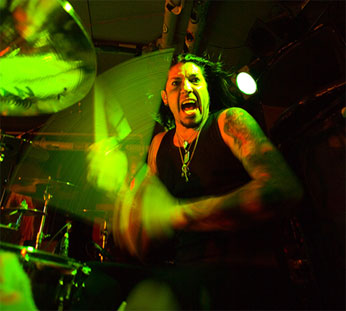 By Billy Amendola
How many rock bands can take a break for three years and come back stronger than ever? Nothing against the former members of Buckcherry, but the current lineup—which features original lead singer Josh Todd and founding guitarist Keith Nelson, plus new members guitarist Stevie Dacanay, bassist Jimmy Ashurst, and drummer Xavier Muriel—is a winning combination. Recently the band was nominated for a Grammy for Best Hard Rock Performance, for their balls-to-the-wall hit single "Crazy Bitch." The cut skyrocketed to the top of the sales charts, reached number-2 on the hot ring tones charts, and helped the band earn a gold record award for their latest album, 15. MD Online spoke with the busy drummer mid-tour about what it's been like going from rebuilding motorcycles to playing on hit records and sold out shows around the world.
MD: How's the tour going?
Xavier: This is my first venture into the rock 'n' roll world of touring and record-making, and it's everything that every kid dreams of. I'm living the American dream of growing up, watching your idols, wanting to emulate them, and doing it, and I'm absolutely ecstatic! I pinch myself every morning when I wake up.
The shows have been phenomenal; the band is playing like a well-oiled machine. Like Josh always says, "It's high energy, low IQ." [laughs] It's just a good old-fashioned rock 'n' roll show. And we really enjoy each other, which is rare with bands. But I think the audience tunes into that and sees that we're having a great time and playing our hearts out. That makes a big difference.

MD: Where are you from?
Xavier: I'm originally from Austin, Texas. I moved to LA in November '04 and hooked up with Buckcherry in January of '05. But I've known Keith for years; he'd tour through Texas and my band would open up for him.
While I was in Texas I also built custom Harleys, and he was an avid Harley fan. He'd call me up and go, "This is the kind of engine I'm thinking about." We kept in touch and then I finally decided to move out. Everything is about timing.

MD: What were the circumstances around your joining the band?
Xavier: Keith and Josh had rekindled their friendship after doing their own separate things for a bit. I was the first guy they called, and then we got Jimmy on bass and Stevie on guitar. It was one rehearsal and that was it. We've all been through different bands, so we understand what makes a band work. We're very respectful of each other as friends and as musicians.

MD: How long was it before you cut the record?
Xavier: Once we decided this was going to be the lineup, we went in and started woodshedding. Keith and Josh both had some songs, and we just got in the room and started banging them out. We didn't want to spend time doing this heavily produced album. I did thirteen tracks in two days, which is insane nowadays. We were able to do the entire album in fifteen days.

MD: Hence the title.
Xavier: Exactly. Instead of thinking about it, we just felt it. We knocked it out, and everybody was really proud of it. Everyone had done their homework.

MD: Were the basic tracks recorded live?
Xavier: Yes. And you can tell, it's got a little bit of that raw feel. I think that people just get way too into the technicalities and the Pro Tools end of it. It's a great tool, but they didn't have that back in the day. Zeppelin didn't have that. We just tried to return to the old school as much as possible.

MD: What are some of your favorite songs to play live?
Xavier: Well, I was a big fan of the band before I joined, so I get to go up there and play songs that I totally dug, like "Dead Again," "Crushed," "Borderline," obviously "Lit Up" from the first album, and "Slamin'" and "Riding" from the second album. It's a real cool thing to be able to perform songs that you used to listen to cruising down the highway in the car, and then turn around and play songs that you just wrote and recorded.

MD: Do you stick to original drummer Devon Glenn's parts?
Xavier: Since the audience is used to hearing them played the way he did, I do try to stick to as much of the foundation as possible. But I try to add a bit of my own flavor here and there. Devon's a great drummer. Every time I saw him he played great and was always a nice guy.

MD: How old were you when you started playing, and who attracted you to the drums?
Xavier: My earliest recollection of getting into music was when I was about ten years old. I grew up in a Latin household, and my parents listened to everything from Etta James to Tito Puente to The Gypsy Kings. And my older brother, who is eight years older than me, was listening to Van Halen, ZZ Top, Judas Priest, Thin Lizzy, and Kansas. So there was a lot of flavor in my household. I'd go into one room and hear some salsa music and then go into another and hear "Running With The Devil." My mother was a drummer in high school, my father was a singer in a band when he was in high school, and my brother was always in bands—he plays the trombone. So there was tons of music going around my house
I remember I wanted to see KISS, so my mother and father dropped me off at the Civic Center—which was totally weird now that I think about it. [laughs] I just sat there and drank my Pepsi and rocked out. I was totally enthralled with the drums, so I went home and talked to my mom about it, and she pulled out her old snare drum.

MD: Did you know prior that she played?
Xavier: I really didn't know until she pulled it out of the garage. She was like, "This is my snare drum." It was a vintage Ludwig 5″ aluminum, the ones they give you for high school band. And that was it, I was pretty much done. I was like, "Right on!" As I got older, I got into a lot of different things, like Motocross and tennis. Then one day I saw a Mötley Crüe video and it really hit me. I got up the next morning and was like, "I've got to be a rock star." I told my mom and dad at breakfast, and they were like, "Yeah, whatever." [laughs] "Here's another fad we are going to have to pay money for."
For the longest time I never took any lessons, and just whacked on that one snare drum. Then I got serious about, went out and got a job, and bought my first Pearl Export kit.

MD: Did you eventually take formal lessons?
Xavier: I took a couple lessons, but I didn't have the discipline to sit and learn all of the rudiments like I should have. I tell kids now, "Learn your rudiments. Everything is based on them." But when learning about rhythm, I think understanding feel and soul is very important. There are a lot of fantastic technical drummers out there, but I'd go see them and leave not feeling fulfilled as far as the soul of it and the passion and the groove. You can have thirty kick drums and eleven million toms and tons of cymbals, but if you can't put it in the pocket and leave it there, then you're pretty much worthless as far as I'm concerned. To me it's all about the 2 and 4, and having the ability to make people dance. To me, rock 'n' roll is just the same as funk music: When you start playing, people should start bouncing. And I try to play for the song as much as I possibly can.

MD: Who are some of your favorite drummers?
Xavier: Growing up, it was Peter Criss and Eric Carr with KISS. But John Bonham was my first true inspiration. I always go, "Okay, what would Bonham do here"? Bonham had the show, the skills, the proper tuning—everything! And Tommy Lee's one of the main guys that I really looked at.

MD: I'll bet Tommy loves "Crazy Bitch." [laughs]
Xavier: Well, we toured with them in Japan, so I got to open for one of my main idols. Let me tell you that was an experience just to be able to do that. His drum tech, Steve O, and I became really good friends. I'll get a call every once in a while from him and the song "Crazy Bitch" will be playing in the background, and he's like, "That's Tommy, dude. He's getting ready to go on stage." It's surreal and an incredible honor to have your idol call you up and go, "Dude, I love that song." For him to tell me that that song has replaced "Girls Girls Girls" at the strip bar…who would ever have thought it? [laughs]
I'm a big fan of Morgan Rose from Sevendust too. And the guy in My Chemical Romance, Bob Bryer, is phenomenal.

MD: I see you're in your first Vater ad.
Xavier: I love the Nude stick. I used to use those huge American Classic Rock sticks, then I went to the 2B, and now I play a 5B with a wood tip. But I use the Nude series with a little bit of Grip Tape to keep them from sliding.

MD: How about your drum gear?
Xavier: I've been playing Yamaha since '90, '91. I bought one of their last Recording Custom kits. I've beaten the crap out of that thing and repainted it twice, and it's never let me down. They make phenomenal drums, and I couldn't be happier. If I don't believe in my gear, I'm not going to play it. They're beautiful drums, they hold up on the road, and I beat the crap out of them every night.

MD: What cymbals do you use?
Xavier: Sabian. They took me on not knowing anything about me, not having any kind of prior recording and performing credits—they took a chance on me. I'm totally happy with them.

MD: Do you have a practice routine?
Xavier: You know, being out on the road, I don't get to practice as much as I'd like to. We're not at the point yet where I can have a drumkit set up backstage. But when I get back home, I always practice to a click. And I do proper warm-ups for the wrists and elbows and back, because I'm a pretty physical player. But I try to get it in as much practice as possible. On the bus, when I have downtime, I have my practice pad and I try to work on rudiments that I should have taken care of a long time ago. I also listen to a lot of different music, and I'm always trying to figure it out. I work on listening to a variety of different drummers. I believe that if you stick to just doing the same thing over and over, then you're never going to get any better. And then when I can, before soundchecks I'll try to play a little bit of fusion one day, then a little bit of swing the next day, and then the next day work on 4/4 pocket and maybe try to do some intricate hi-hat stuff.

MD: How do you stay in shape?
Xavier: Keith and I both cycle, and we have our bikes out on the road. We'll take them out and go out for a forty-mile ride, and that really helps with the cardio and helps with my lower workout…I don't play double pedal, I play single pedal. Obviously my upper body gets a lot of workout just from playing the way that I do, and I'll do push-ups, crunches, and sit-ups as much as possible. Unfortunately there's no way of eating well on the road, unless you have a chef out with you, but I'm not going to pay for that.

MD: Do you warm up before you play?
Xavier: Yes, I do a lot of stretching about twenty minutes before I go on. I'll stretch my entire body. Then I'll put on my iPod and listen to something that's going to get me going, like Sevendust or Slipknot. I'll sit in the back lounge and pound on the seat. I'll start off very slowly with single strokes, then go into double strokes, and then speed it up until I feel like my wrists and fingers are limber. There's been too many times when I didn't warm up properly. You don't feel it while you're playing, because your adrenalin is pumping and you're having a great time. If you don't stretch properly before and after you play, you'll feel it the next day. I used to teach back home in Austin, and I would always tell my students that stretching is the most important thing, because if the body isn't working properly it's not going to do what you want it to. Then you get frustrated, and you apply more physical strength than you need to.

MD: Any final advice?
Xavier: I've had to learn that once you elevate yourself to another level, you have to keep learning. If you don't keep reinventing yourself and learning different techniques and different things, you get stale and you don't really grow as a person or a drummer. Also, I've always felt that drumming and music in general are not "thinking" things. You should feel music before you think it.
For more on Buckcherry, visit www.buckcherry.com.
This is a list of notable events in music that took place in the year 1997.
Specific locations[edit]
Specific genres[edit]
Events[edit]
January[edit]
January 1 – Townes Van Zandt dies
January 7 – the Spice Girls release their debut single, "Wannabe" in the U.S. and premiere the video eighteen days later.
January 9 – David Bowie performs his 50th Birthday Bash concert (the day after his birthday) at Madison Square Garden, New York City, USA with guests Frank Black, The Foo Fighters, Sonic Youth, Robert Smith of The Cure, Lou Reed, and Billy Corgan of The Smashing Pumpkins, with the opening act Placebo. Proceeds from the concert went to the Save the Children fund.[1]
January 10 – James Brown receives a star on the Hollywood Walk of Fame in Hollywood, USA.[2]
January 19 – Madonna wins Best Actress In A Motion Picture, Musical Or Comedy, for her part in Evita, at the 54th annual Golden Globe Awards in the USA.[3]
January 20 – Daft Punk's debut album Homework is released.
January 28 – The Virginia Senate votes to retire "Carry Me Back to Old Virginny" as the official state song, and begins looking for a replacement.
February[edit]
March[edit]
March 1

Pianist David Helfgott performs at the Boston Symphony Hall, in Boston, USA, during his world tour. The Boston Globe describes his performance as "without phrasing, form, harmonic understanding, differentiation of style and often basic accuracy; worst of all, it was without emotional content".
The jam band Phish records "Slip Stitch and Pass" live at Markthalle, Hamburg, Germany.

March 3 – U2 release the opinion-dividing Pop album. Along with the Oasis album Be Here Now, it becomes a major release that fails to sell to industry expectations, particularly in the US, despite many strong initial reviews.
March 9
March 10 – A Marilyn Manson concert in Columbia, South Carolina is canceled in response to pressure from religious and civic groups.
March 11 – Paul McCartney is knighted by Elizabeth II.
March 17 – Whirlwind Heat play their first show.
March 18 – Aerosmith releases Nine Lives, their 12th studio album.
March 19–20 – The reunited Monkees perform two sold-out concerts at Wembley Arena in London, UK.
March 30 – The Spice Girls launch Britain's new television channel, Channel 5.
April[edit]
April 2 – Joni Mitchell is reunited with her daughter, Kilauren Gibb, whom she gave up for adoption 32 years earlier.
April 7 – Wynton Marsalis becomes the first jazz artist to win the Pulitzer Prize for Music.
April 8 – Third Eye Blind releases their self-titled debut album, selling 6,000,000 copies in the US and featuring the massive hit "Semi-Charmed Life".
April 10 – Nigel Kennedy, now calling himself simply Kennedy, returns to the stage at the Royal Festival Hall after a five-year absence from the concert stage resulting from neck surgery.[5]
April 14 – Depeche Mode come back with their 9th album, Ultra.
April 15 – Hanson releases "MMMBop", one of the most successful debut singles of all time, reaching number one in 27 countries.
April 25–27 – The first Terrastockfestival is held in Providence, Rhode Island, USA.
May[edit]
May 3
May 6 – The Rock and Roll Hall of Fame induction ceremony is held in Cleveland at the site of the hall itself for the first time. Prior to this year, the ceremony had only been held in New York City.
May 11 – The Spice Girls perform their first British live gig for the Prince's Trust 21st anniversary concert at the Manchester Opera House They break royal protocol by kissing The Prince of Wales on the cheeks and even pinching his bottom.
May 15 – The Spice Girls' album Spice reaches number one on the US charts, making them the first British act to top the charts with a debut album.
May 20
May 23 – Brainiac frontman Tim Taylor is killed in a car crash driving to his Dayton, Ohio home. He was 29. The band soon announces they will not continue.
May 24 – The first proper Ozzfest tour kicks off at the Nissan Pavilion in Washington, D.C, featuring Pantera and a reconstituted Black Sabbath with three of the four original members.
May 28 – Japanese pop singer and songwriter Miho Komatsu release her first and debut song entitled Nazo. It is used as an opening soundtrack in popular hit anime Detective Conan.
June[edit]
July–August[edit]
July 1 – Transfer of sovereignty over Hong Kong to China: Tan Dun's Symphony 1997: Heaven, Earth, Mankind for orchestra, biānzhōng bells, children's chorus and solo cello is premièred as part of the official ceremony.
July 5 – The first Lilith Fair tour kicks off at The Gorge Amphitheatre in George, Washington. Sarah McLachlan, Tracy Chapman and Jewel are among the performers.
July 15–20 – The second Yoyo A Go Go punk and indie rock festival opens in Olympia, Washington.
July 29 – 98 Degrees release their debut album 98 Degrees
August 3 – The Black Crowes perform their last show with Johnny Colt and Marc Ford.
August 4 – Nigerian afrobeat pioneer and dissident pop star Fela Anikulapo-Kuti dies in Lagos, Nigeria, of HIV-related illness.
August 7 – Garth Brooks performs to an estimated 800,000 to one million people during a free concert given in Central Park, New York City.
August 11 – The Backstreet Boys come back with the release of their second international album Backstreet's Back.
August 12 – The Backstreet Boys burst onto the music scene in the United States with the release of their debut album Backstreet Boys.
August 14 – Godspeed You! Black Emperor releases debut album, F♯ A♯ ∞
August 16–17 – Phish perform at the two-day music festival, The Great Went, at Loring Air Force Base in Limestone, Maine, US. They play 500 minutes of music, six sets and two encores. There is an estimated attendance of between 65,000 and 70,000, and it is the top-grossing concert of the season, making over $4,000,000 in box office receipts.
August 19 – The reunited Fleetwood Mac release The Dance and begin a concert tour in the United States.
August 21 – Oasis' third album, Be Here Now, is released. It becomes the fastest selling album of all time in the UK, moving 695,761 copies in the first week.
August 30 – "Mo Money Mo Problems" reaches #1 on the Hot 100 singles chart, making Notorious B.I.G. the first artist to achieve two posthumous #1 singles.
September–October[edit]
September 6 – Elton John performs "Candle in the Wind" at the funeral of Diana, Princess of Wales; John Tavener's Song for Athene is performed at the same ceremony, with soprano Lynne Dawson singing the solo part.
September 16
September 17 – The KLF return for 23 minutes with their performance of "Fuck the Millennium".
September 19 – While on his way to a benefit concert in Kansas, USA, Rich Mullins loses control of his Jeep, flipping the automobile and throwing both Mullins and passenger Mitch McVicker out onto the road. A tractor-trailer approaching the scene swerves to miss McVicker, striking and killing Mullins instantly. McVicker survives, but suffers major injuries.
September 20 – U2 plays at Reggio Emilia during their PopMart Tour to over 150,000 people.
September 22 – Björk releases Homogenic, moving towards a darker sound and away from her 'pixie' image.[7]
September 23 – U2 perform a concert in Sarajevo during their PopMart Tour.
September 27 – Bob Dylan performs for Pope John Paul II at a Catholic youth event in Bologna, Italy.
September 29
October 7 – Everclear release their multi-platinum third album So Much for the Afterglow, containing "Father of Mine" and "I Will Buy You a New Life".
October 13 – The "Prince Igor" single, jointly performed by The Rhapsody, Warren G and Sissel Kyrkjebø is released.
October 15 – Michael Jackson ends the History World Tour, which included an attendance record of 4,500,000 fans.
October 23 – R.E.M. drummer Bill Berry announces his departure from the group.
November–December[edit]
November 3 – The Spice Girls release Spiceworld, their second number one album, making the group the first British band since The Beatles to have two albums in the US chart at the same time. Spice and Spiceworld have amassed enough sales for one out of every two people in Britain to own a Spice Girls album.
November 4 – Shania Twain releases her album Come on Over which goes on to sell over 40 million copies worldwide to date[8] and later became the biggest selling album in country music history and the biggest selling album by a female music artist.
November 6 – The Spice Girls make the decision to take over the running of the group and drop Simon Fuller as their manager.
November 18 – American indie rock band Modest Mouse release their second full-length album, The Lonesome Crowded West.
November 19 – Gary Glitter is arrested after images of child pornography are found on a laptop computer that he had taken in for repairs.
November 22 – INXS lead singer Michael Hutchence is found dead in a Sydney, Australia hotel room, aged 37.
November 25 – Will Smith releases his debut solo studio album Big Willie Style.
November 26 – In a performance billed as the "highest" gig on Earth, Spiritualized play in the deck of the CN Tower in Toronto, Ontario, Canada for an audience of 150 people.
December 1 – Aaron Carter bursts onto the music scene at the age of 10 with the release of his debut album Aaron Carter, making him the youngest male artist in the world since Michael Jackson in 1969.
December 4-5 – Black Sabbath perform a pair of reunion shows in their hometown of Birmingham, England. They are the first full-length concerts by the original lineup of the band since 1978.
December 26 – The Spice Girls release their big screen debut Spiceworld: The Movie, starring Richard E. Grant, Roger Moore, Elton John and Stephen Fry. The movie makes £6.8m in its first week of release.
December 31 – The Home of Country Music, the Opryland USA theme park, in Nashville, Tennessee, USA closes and is subsequently demolished.
Also in 1997[edit]
Bands formed[edit]
Bands disbanded[edit]
Bands reformed[edit]
Albums released[edit]
January – March[edit]
April – June[edit]